no more parking fine!...
I think I ought to be quite proud of thinking this idea up... its fabulous!

Even though the enemy is formidable, I have found a way to defeat our old nemesis -the parking police. Their nasty rule of middle earth could at last be put to an end.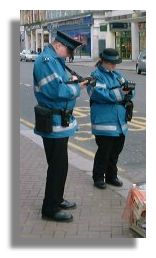 Consider this: even though the evil parking police loves to cause suffering worldwide by issueing ridiculous amounts of fines to innocent children who drive cars, they generally dont give you two fines on a car...


That is the clue that gave me the solution.

This requires that you have had a fine already. In Sydney, they come in yellow envelopes. What you do is, after parking at a 'contentous' parking spot, take out your yellow parking fine envelope and put it on your car window.




Any parking police will be easily fooled into thinking that you are already fined and therefore you are effectively protected by any fines that may come your way! Even better, if you do have a copy of the fine itself, put it inside the yellow envelope to ensure added effectiveness.

You know what, I'm actually serious this time. Serious!

Asta la vista, baby. XD