maple story: skill/stat guide
Maple Story: an online rpg game
http://www.mapleglobal.com

It is quite fun to play -.-
Cute graphics... anyway here is a guide I copy and pasted...

To level up fast you need to know where to go..
I know some secret places :D

Pig beach is very fast for me now~
B is level 24 warrior...

aim for this!!!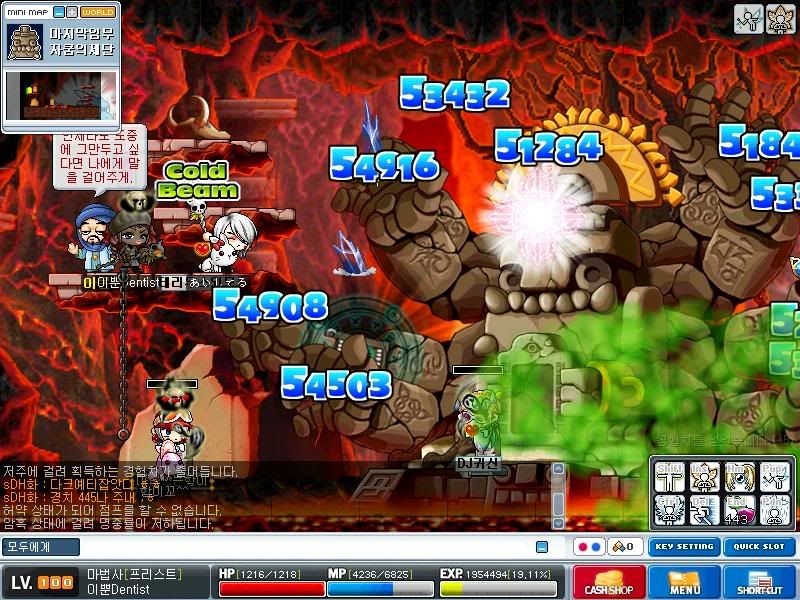 -----------------------------------------------------------------

WARRIOR
Warrior
There are 2 types of warrior ATK and DEF
- Improving HP Recovery 5
- Improving Max HP Increase 10

ATK type A (For power hit)
- Power Strike 10
*Save up 10 points*
- Power Strike 20
- Slash Blast 10
*Save up 10 points*
- Slash Blast 20
- Endure 3 + Iron Body 3 or Improving HP Recovery 11

ATK type B (For mob killing)
- Power Strike 10
- Slash Blast 10
*Save up 10 points*
- Slash Blast 20
*Save up 10 points*
- Power Strike 20
- Endure 3 + Iron Body 3 or Improving HP Recovery 11

DEF type
- Endure 3
- Iron Body 13
- Power Strike 10
- Slash Blast 10
*Save up 10 points*
- Power Strike 20 or Slash Blast 20


MAGICIAN
Magician
Magic Claw Type (more dmg):
- Energy Bolt 1
- Improving MP Recovery 5
- Improving Max MP Increase 10
- Magic Claw 10
*Save up 10 points*
- Magic Claw 20
- Improving MP Recovery 16
- Magic Guard 20
Note: u can max improving MP recovery before Magic Claw 10 step

Energy Bolt Type (less mp used):
- Energy Bolt 1
- Improving MP Recovery 5
- Improving Max MP Increase 10
- Energy Bolt 10
*Save up 10 points*
- Energy Bolt 20
- Improving MP Recovery 16
- Magic Guard 20
- 1 point left... magic claw 1 or something else?
Note: u can max improving MP recovery before Energy Bolt 10 step

BOWMAN
Archer
- Amazon's Bless 3
- Amazon's Eye 3
- Critical Shot 20 **IMPORTANT**
- Arrow Blow 1
*Bow Archer/CrossBow Archer
- Double Shot 10/Arrow Blow 10
- Double Shot 20/ Arrow Blow 20
- 47 SP used, 14 SP left to use it on what ever u like (I suggest AE 8)
Note: You can add more AE anytime u like...like 1 AE and 2 Crit shot, the Bow = DS, Crossbow = AB got from pro players and guide book in koria and jap as well

THIEF
Rogue
Dagger type:
- Nimble Body 20
- Double Stab 10
*Save 10 Points*
- Double Stab 20
- Disorder 3
- Dark Sight 1
- Disorder 20 or Keen Eyes 8 + Lucky Seven 9
Note: If you can afford those mana pots then u can max out double stab before nimble body

Shuriken/Throwing Type A:
- Lucky Seven 1
- Nimble Body 3
- Keen Eyes 8
- Lucky Seven 10
- Nimble Body 20
*Save 10 points*
- Lucky Seven 20
- Disorder 3
- Dark Sight 10
Note: for poor ppl

Shuriken/Throwing Type B:
- Lucky Seven 1
- Nimble Body 3
- Keen Eyes 8
- Lucky Seven 10
*Save 10 points*
- Lucky Seven 20
- Nimble Body 20
- Disorder 10
- Dark Sight 3
Note: for rich ppl that can afford lots of pots

WARRIOR
Fighter
Type A
- Sword/Axe Mastery 20
- Final Attack: Sword/Axe 30
- Sword/Axe Booster 5
- Fury 20
- Power Guard 30
- Sword/Axe Booster 20

Type B
- Sword/Axe Mastery 20
- Fury 20
- Final Attack: Sword/Axe 30
- Sword/Axe Booster 5
- Power Guard 30
- Sword/Axe Booster 20

Page
- Sword/Mace Mastery 20
- Final Attack: Sword/Mace 30
- Sword/Mace Booster 5
- Threaten 3
- Power Guard 30
- Sword/Mace Booster 20
- Threaten 20

Spearman
Type A
- Spear/PoleArm Mastery 20
- Final Attack: Spear/PoleArm 30
- Spear/PoleArm Booster 5
- Iron Wall 3
- Hyper Body 30
- Iron Wall 20
- Spear/PoleArm Booster 20

Type B
- Spear/PoleArm Mastery 20
- Spear/PoleArm Booster 5
- Final Attack: Spear/PoleArm 30
- Iron Wall 3
- Hyper Body 30
- Spear/PoleArm Booster 20
- Iron Wall 20

MAGICIAN
Wizard (Fire/Poison)
Fire Type
- Teleport or MP Eater 1
- MP Eater or Teleport 1
- Fire Arrow 30
- MP Eater 3
- Meditation 20
- Teleport or MP Eater 20
- MP Eater or Teleport 20
- Poison Breath 30
- Slow 1

Poison Type
Same as above, except u swap Poison Breath with Fire Arrow. I doubt anyone would use this one anyway.

Fire/Poison Type
- Teleport or MP Eater 1
- MP Eater or Teleport 1
- Fire Arrow 30
- Poison Breath 30
- MP Eater 3
- Meditation 20
- Teleport or MP Eater 20
- MP Eater or Teleport 20
- Slow 1

Wizard (Ice/Lightening)
Ice Type
- Teleport or MP Eater 1
- MP Eater or Teleport 1
- Cold Beam 30
- MP Eater 3
- Meditation 20
- Teleport or MP Eater 20
- MP Eater or Teleport 20
- Thunder Bolt 30
- Slow 1

Lightening Type
Same as above, but swap Cold Beam and Thunder Bolt around

Ice/Lightening Type
- Teleport or MP Eater 1
- MP Eater or Teleport 1
- Cold Beam 30
- Thunder Bolt 30
- MP Eater 3
- Meditation 20
- Teleport or MP Eater 20
- MP Eater or Teleport 20
- Slow 1
Note: Cold Beam 1st = Safe training, abit slow but good cash. Thunder 1st = Get hit alot, abit faster but little/no/lose cash.

Cleric
Support type A
- Teleport or MP Eater 1
- MP Eater or Teleport 1
- Heal 5
- Invincible 5
- Bless 20
- Heal 30
- MP Eater 20
- Invincible 20

Support type B
- Teleport or MP Eater 1
- MP Eater or Teleport 1
- Heal 5
- Invincible 5
- Bless 20
- Heal 15
- MP Eater 20
- Heal 30
- Invincible 20

Support type C
- Teleport or MP Eater 1
- MP Eater or Teleport 1
- Heal 5
- Invincible 5
- Bless 20
- Heal 15
- Holy Arrow 30
- MP Eater 20

Attack Type A
- Teleport or MP Eater 1
- MP Eater or Teleport 1
- Heal 1
- Holy Arrow 30
- Heal 15
- MP Eater 20
- Heal 30
- Invincible 10

Attack Type B
- Teleport or MP Eater 1
- MP Eater or Teleport 1
- Heal 30
- MP Eater 20
- Holy Arrow 30
- Invincible 10

BOWMAN
Hunter
- Arrow Bomb 1
- Bow Mastery 20
- Bow Booster 5
- Final Attack: Bow 30
- Soul Arrow 10 and Arrow Bomb 30
- Power Knockback 20 and Bow Booster 11
Note: When i say "and" you can get either 1 first, up to u

Crossbow Man
- Iron Arrow 1
- CrossBow Mastery 20
- CrossBow Booster 5
- Final Attack: CrossBow 30
- Soul Arrow 10 and Iron Arrow 30
- Power Knockback 20 and CrossBow Booster 11
Note: When i say "and" you can get either 1 first, up to u


THIEF
Assassin
Type 1
- Javelin Mastery 3
- Javelin Mastery 20 and Critical Throw 30
- Endure 3
- Drain 3
- Javelin Booster 5
- Haste 20
Note: When i say "and" you can get either 1 first, up to u

Type 1A
- Javelin Booster 20
- Endure 20 or all to Drain
- Drain 10

Type 1B
- Endure 20
- Javelin Booster 20 or all to Drain
- Drain 10

Type 1C
- Drain 30
- All to either Booster or Endure

Type 2
- Javelin Mastery 5
- Javelin Booster 5
- Critical Throw 30
- Haste 20
- Endure 3
- Drain 1
- Javelin Booster 10
- Javelin Mastery 20, Drain 28, Javelin Booster 20 (in any order depend on u)

Bandit
- Dagger Mastery 1
- Dagger Mastery 20 and Savage Blow 30
- Dagger Booster 5
- Haste 20
- Dagger Booster 20 and Endure 20
- Steal 10
Note: When i say "and" you can get either 1 first, up to u